So, it is no secret how much I LOVE a great denim shirt dress. My latest favorite is super lightweight, which is ideal for the end of summer as we start to cruise towards the fall months. I discovered that this light wash denim can be really hard to find. Equally rare is it's price tag which is under $30! But the best part is that this gem comes in 3 colors – and we all know that something this good you buy in EVERY color! No judgement here… you know I already have each one.  What? Three dresses for under $100 total? That's right.
We are heading back to Sedona, Arizona next month for our yearly journey out West. Reminiscing about last year's trip has me falling in love with Navajo inspired jewelry all over again! "Squash Blossom" Necklaces are my favorite. They are typically gorgeous statement pieces that make your entire outfit. Check out this great collection on etsy HERE.
The fact that denim shirt dresses can be worn so many ways, makes them one of the more essential and versatile pieces in any woman's wardrobe. It's all in how you style and accessorize it; Sandals to boots, belted or straight, you can dress them up or down. Get creative! Tonight we took a trip out to the countryside of Lexington KY to visit a winery there that we adore. The vineyards border tobacco fields and the sunsets there are always brilliant. Truly Kentucky at it's finest.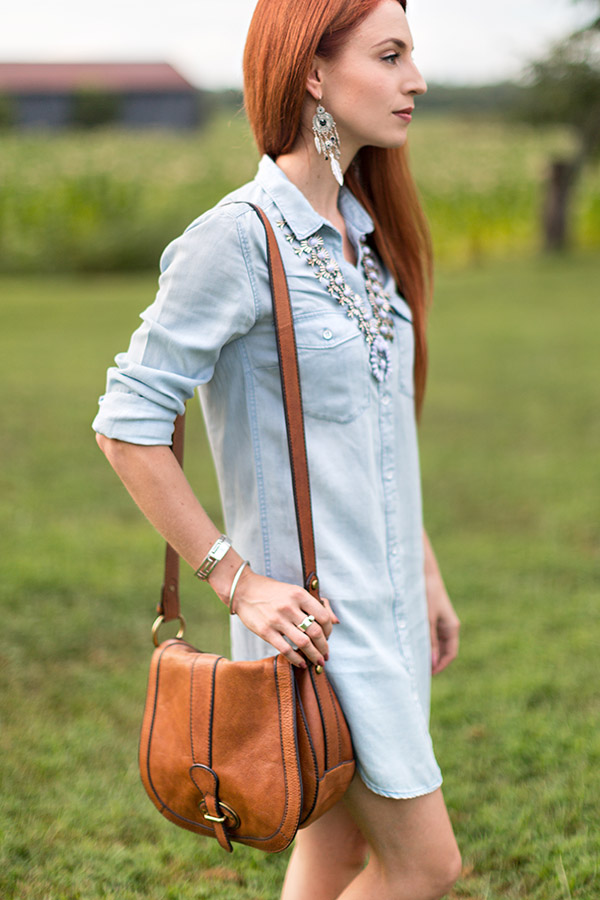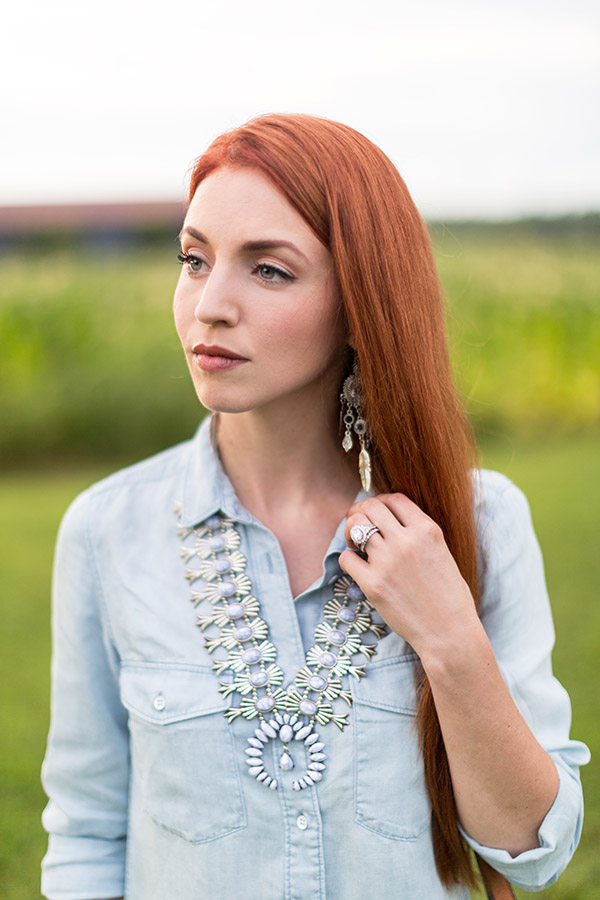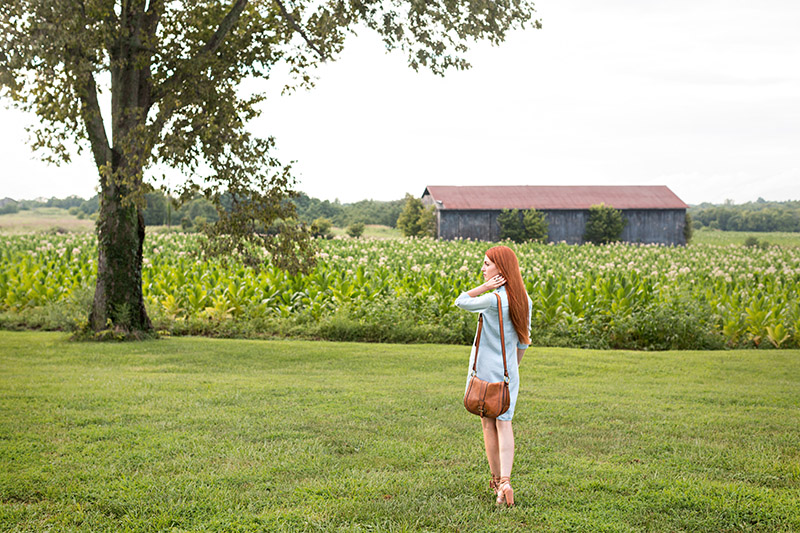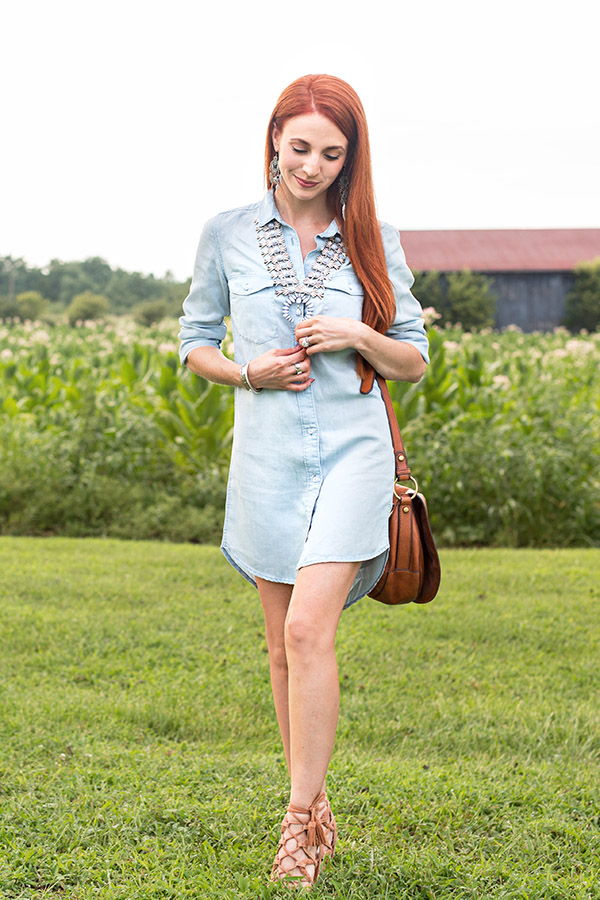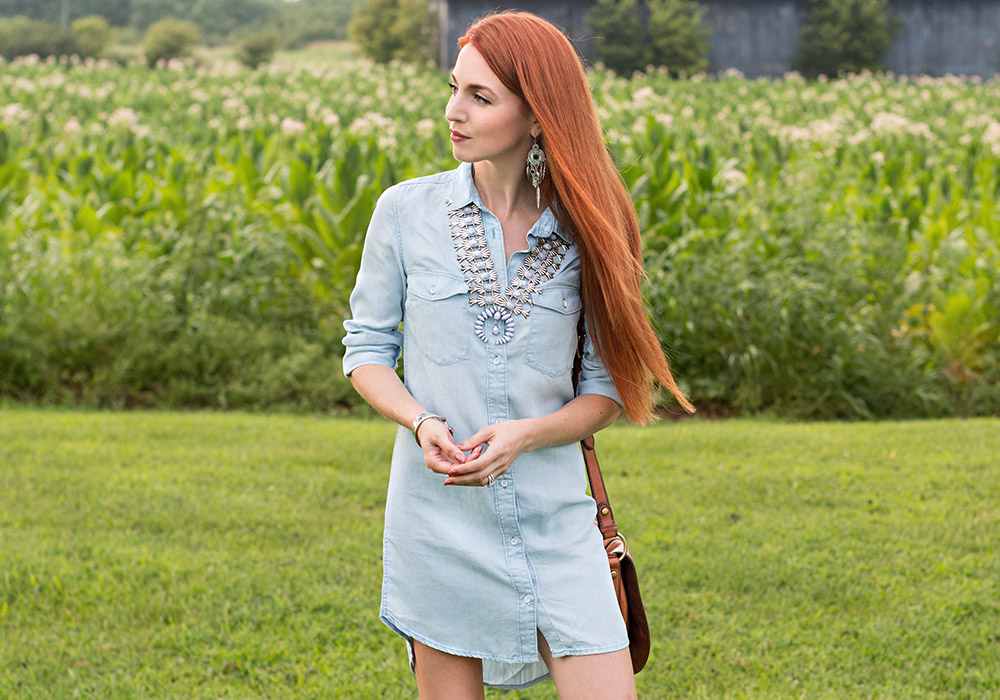 Light Wash Denim Shirt Dress | H&M ($29!)
LOVE this "Squash Blossom" necklace? Check THESE out! 
Gorgeous Leather Saddlebags:   Lisbon O-Ring Saddlebag, Saddle Crossbody Bag, & Rebecca Minkoff 'Vanity' Saddle Bag
Shoes: Frye Brielle Gladiator 
Scroll below for more options!

These are the golden days of summer. I wish I could bottle it up. Enjoy every last moment!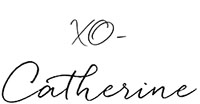 Photos by Andrew Kung Photography