When you are headed to the racetrack on Derby week, it is an opportunity to make a statement. Do not back down from this! Don't you dare get lazy on me and throw on a smashed floppy hat from that one Cancun vacay 6 years ago, Karen!  You are a fashion goddess! Now is the time to stretch you comfort zones and PLAY a little! Be BOLD! Be Daring! 
Now listen carefully: You do *not* have to spend a fortune to look like a million. I know you are thinking "yeah, yeah. Sure Catherine." But seriously. You just have to think creatively and make things work for YOU (scroll to the bottom for all the deets on how I put this look together!). I know that Derby Day is long behind us – but it will be back faster than it takes to tie a Vineyard Vines bowtie on your man. And this dress – THIS $25 DRESS, YOU GUYS – is about to get way more airtime than the most exciting 2 minutes in sports. Don't judge when you see me replaying it all. summer. long. 
Seeing as this is likely one of my favorite ensembles of the season, I was tickled to death when New York designer and watercolor illustrator Peggy McGrath of Whodrew (@WhodrewNYC on Insta) surprised me with this beautiful and vibrant painting of my look! It is becoming a Derby tradition and is such an honor. Thank you so much Peggy for sharing your art with me and bringing such joy to me year after year! 
Scroll to see more of my first day at the track during Derby week. All details are at the bottom!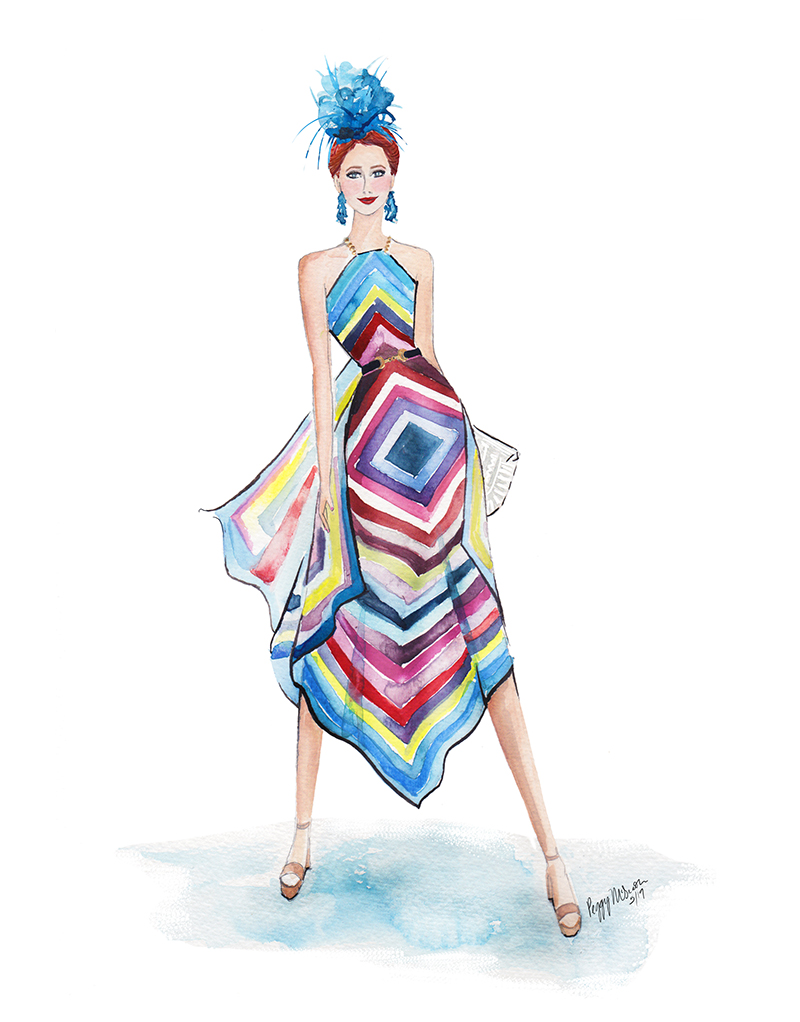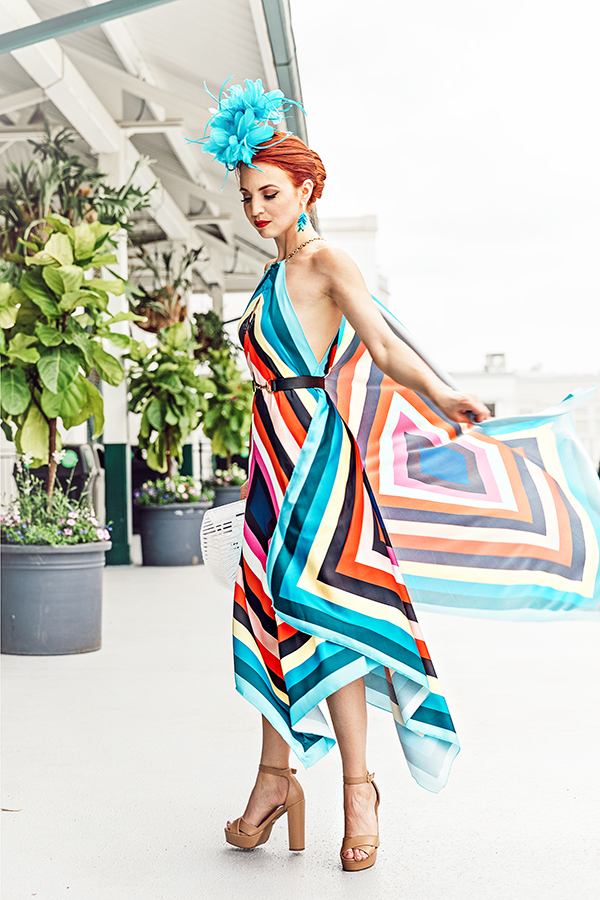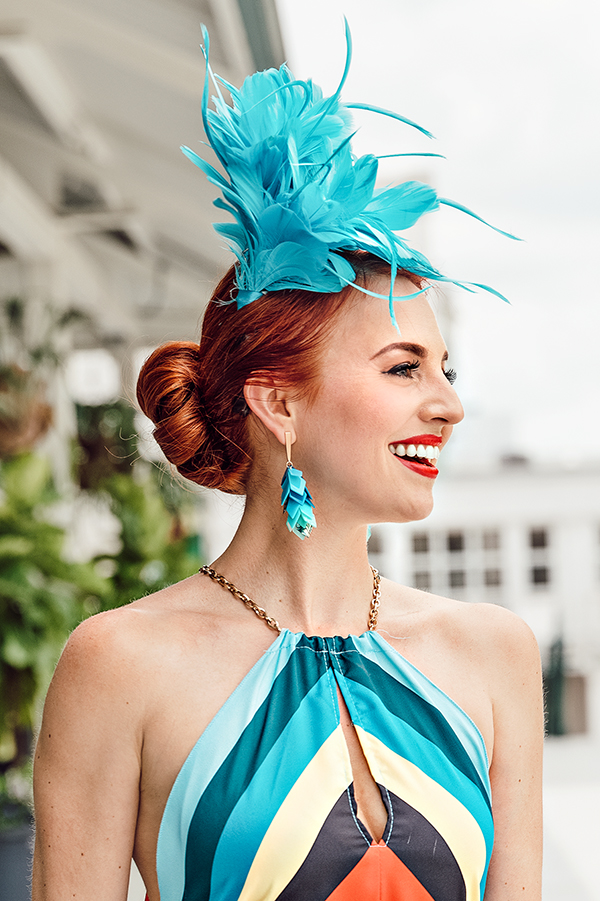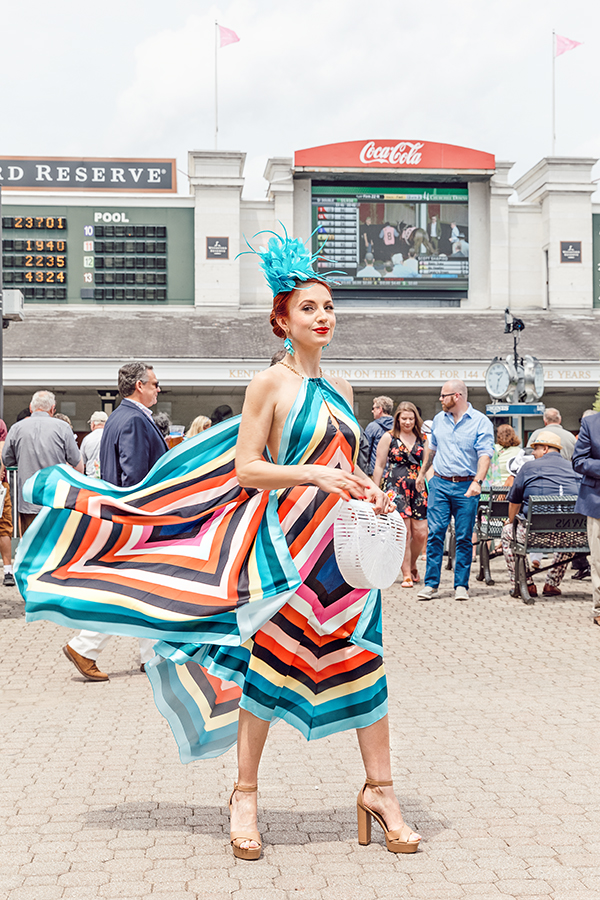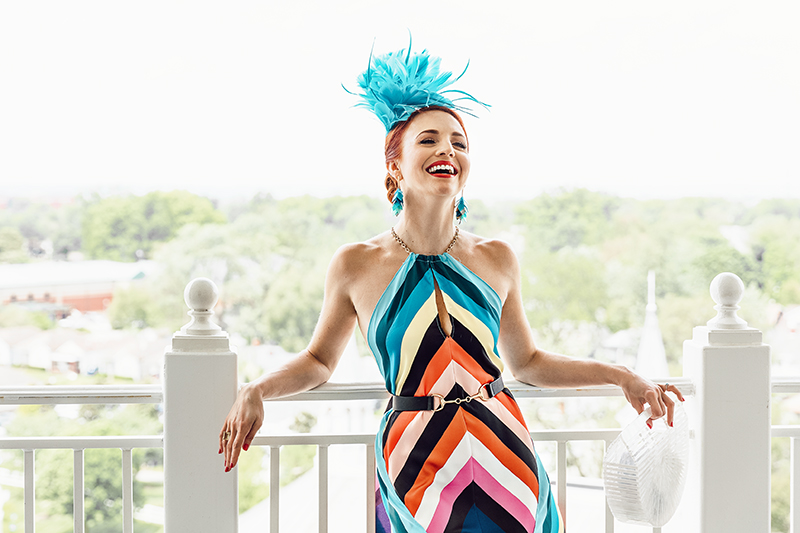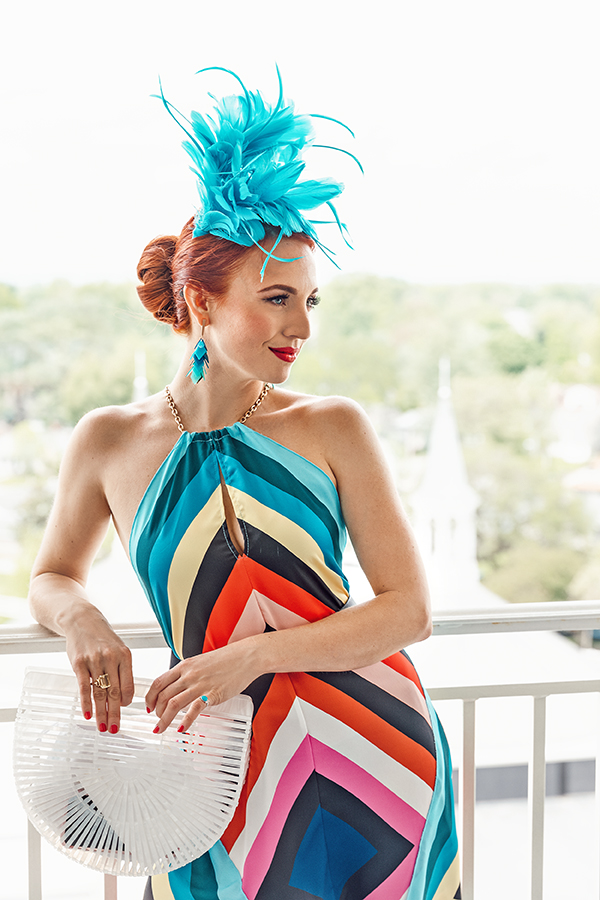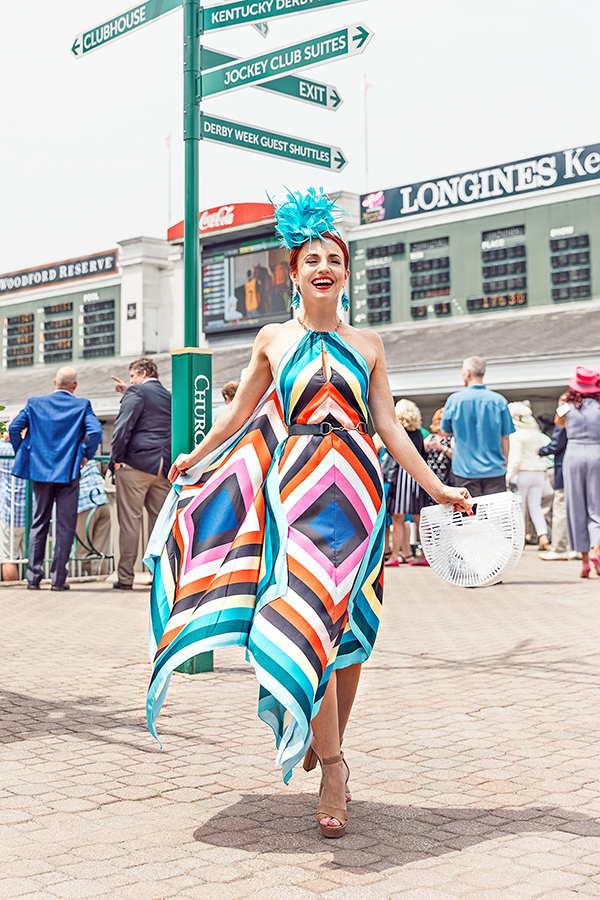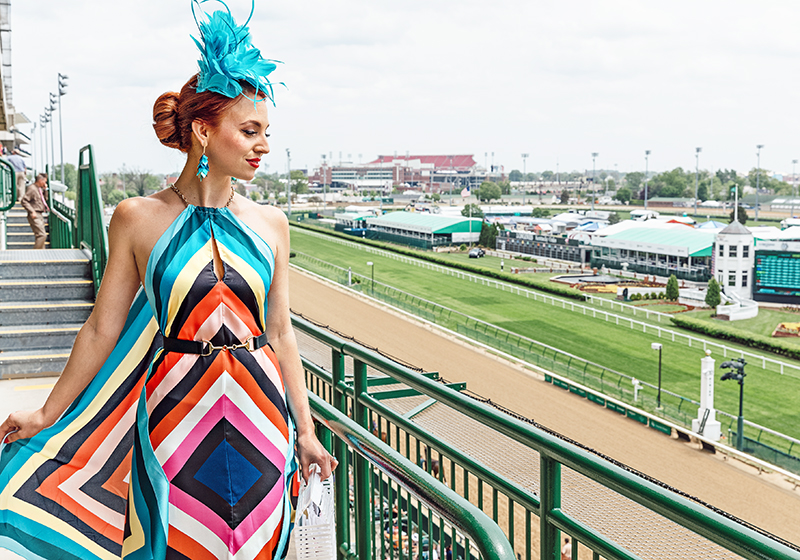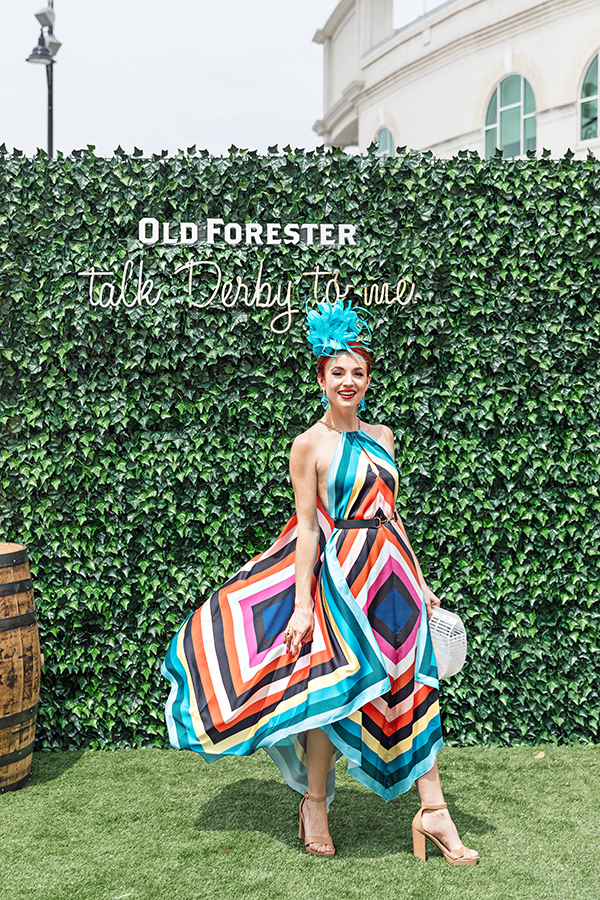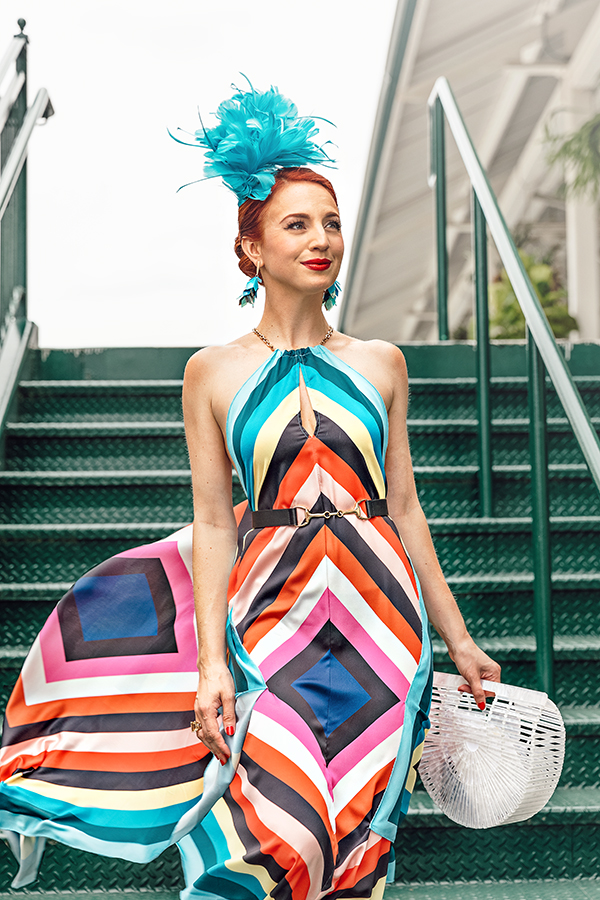 Dress | Geo Print Hanky Hem Halter Dress (only $25) 
The trick to styling this dress is to belt it. It does not come with a belt, but you can use anything you like – even a think black ribbon. I cut a small hole through the back to allow the belt to go through the 'cape', which gave me a waistline without taking away the dramatic effect of the cape. I also replaced the gold tone collar with a gold tone chain, but this is optional.
Shoes | Perfect Nude Platform Sandals (only $32)
These shoes are the literal holy grail of Amazon discoveries. You **will not** find a more comfortable heel for the height (you can fight me on it), and the price cannot be beat! Size down 1/2 a size for the best fit!
Purse | Pearl Acrylic Ark Clutch (only $50)
The absolute perfect lookalike to the 'Cult-Gaia' version without the $298 price tag (ouch!). You're welcome.
Earrings | Kendra Scott Jenny Statement Earrings in Abalone Mix
Fascinator Hat | Handmade by me! But find similar handmade ones HERE on Etsy!