For my birthday weekend Drew & I escaped up to Chicago to frolic and play for a few days in hopes that acknowledging the passing of another year for me would be relatively painless. We stayed at the historic Blackstone Hotel and took walks in the picturesque park across the street that faces the beautiful blue lake. The weather was kind to us and I knew we were lucky in that windy city. I put on a white & black shift dress with a bold pattern, vibrant red lips, and one of my favorite playful accessories right now – my Milly clutch – and we went out to soak in the day.
Let's just take a moment to talk about this clutch. I love Milly bags and the 'Miley' clutch really sets itself apart. Not only would it be useful as a reflector emergency situations (I kid, but really), it is also a fantastic conversation piece. The iridescence is eye-catching and unexpected like the scales of a mermaid's tail, and while it photographs green it is actually quite turquoise blue! Interesting, eh? I love unique accessories , and though you might not think of this as an everyday go-to neutral handbag… it should be! Live a little!
Get the details of the rest of the look at the bottom!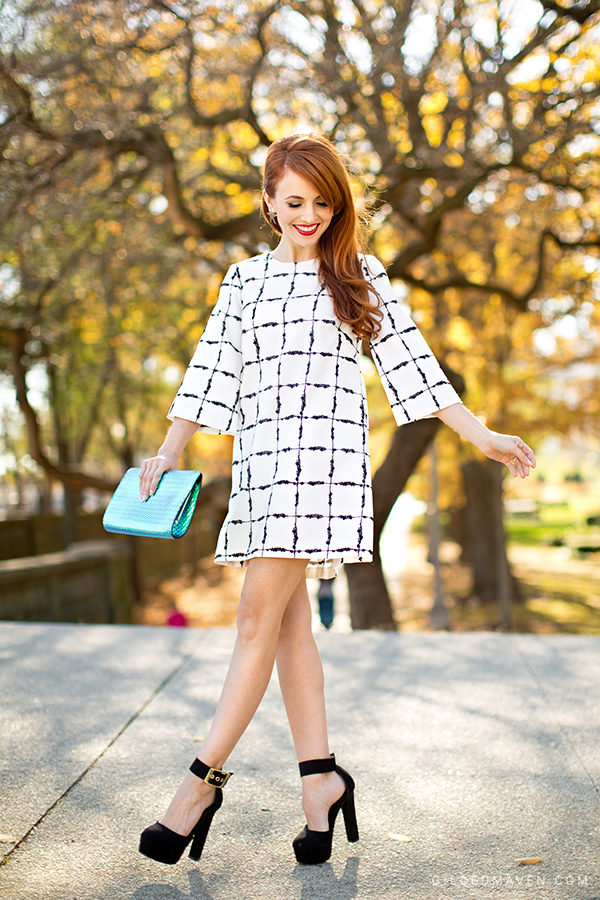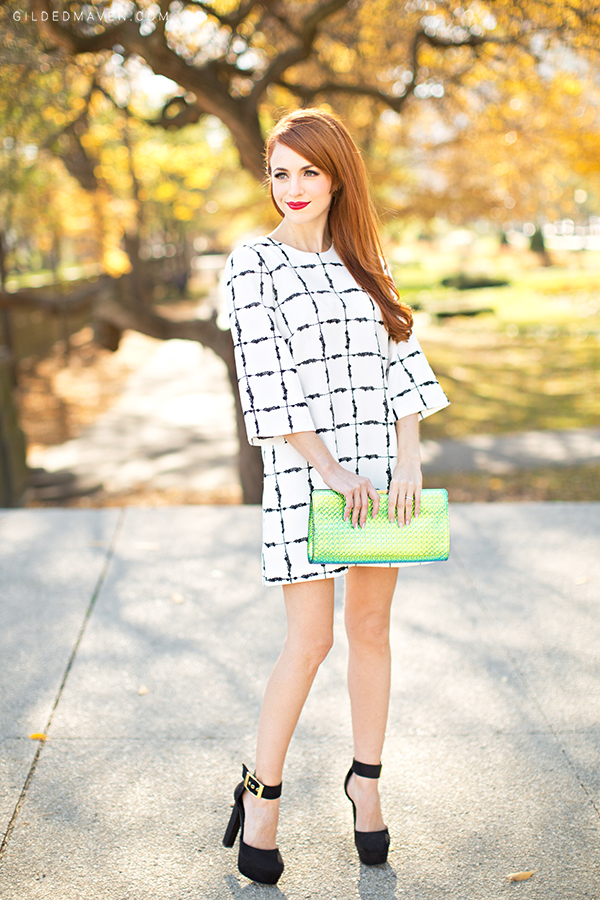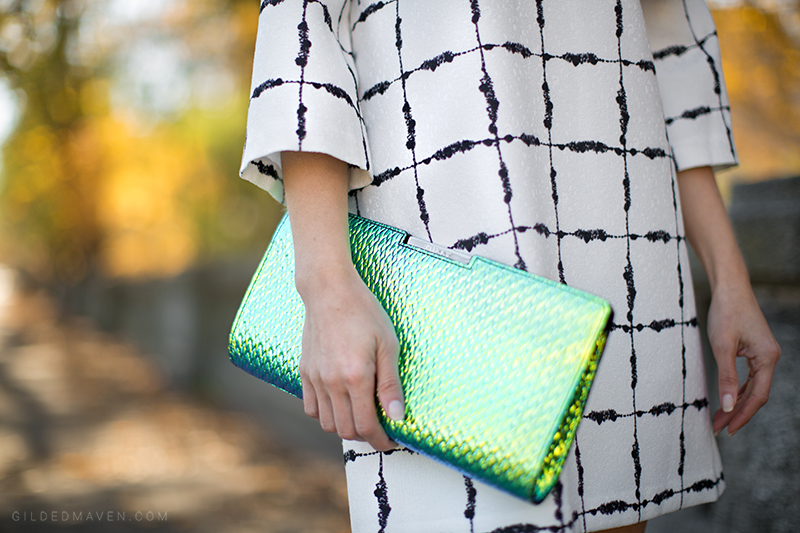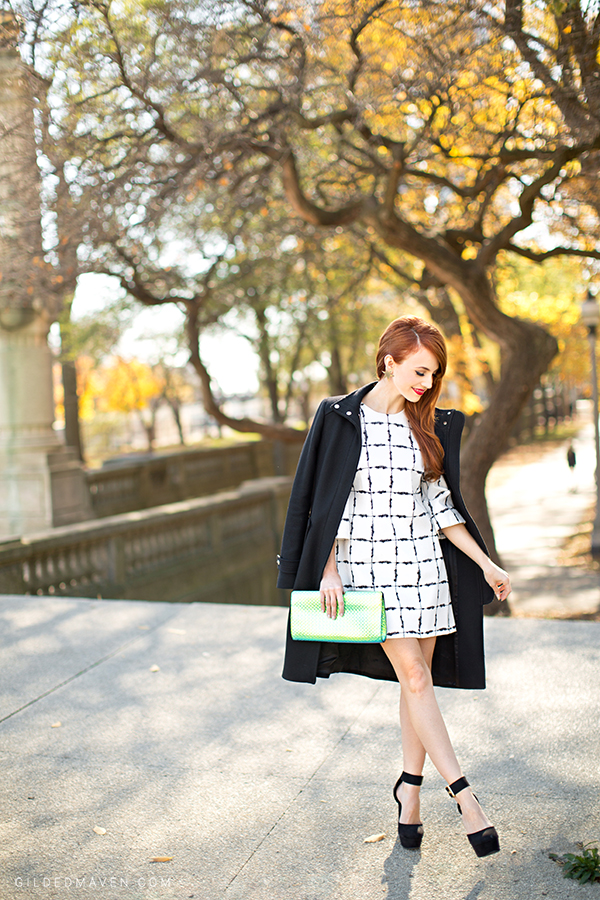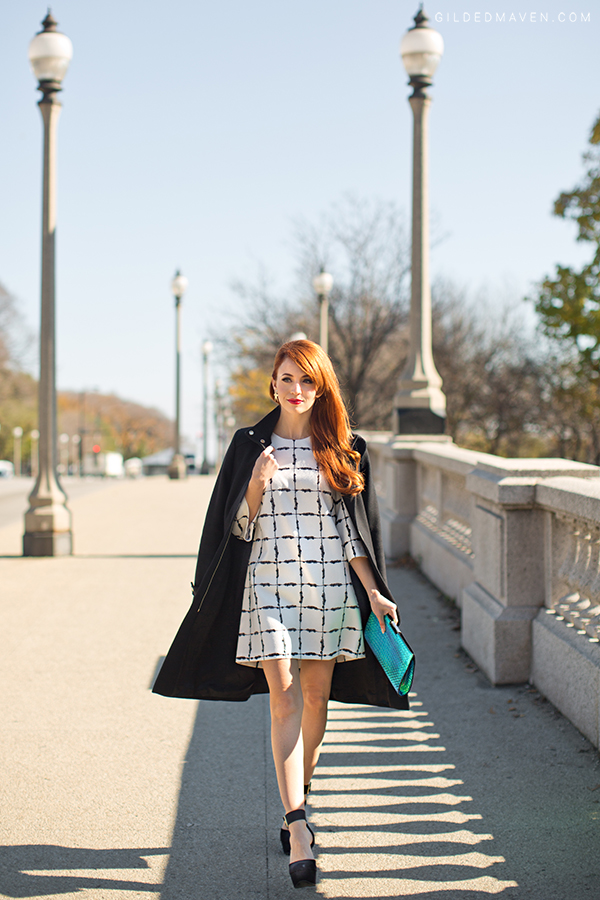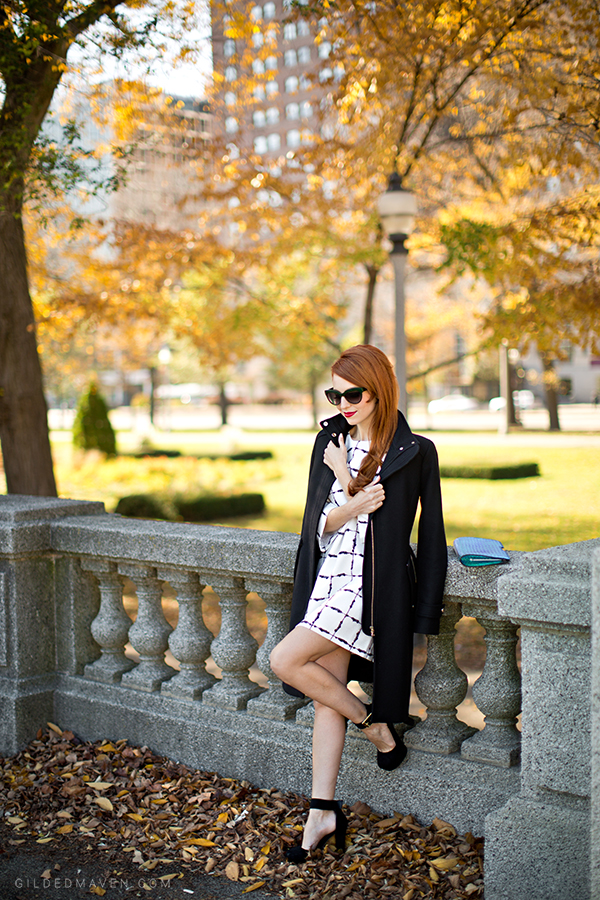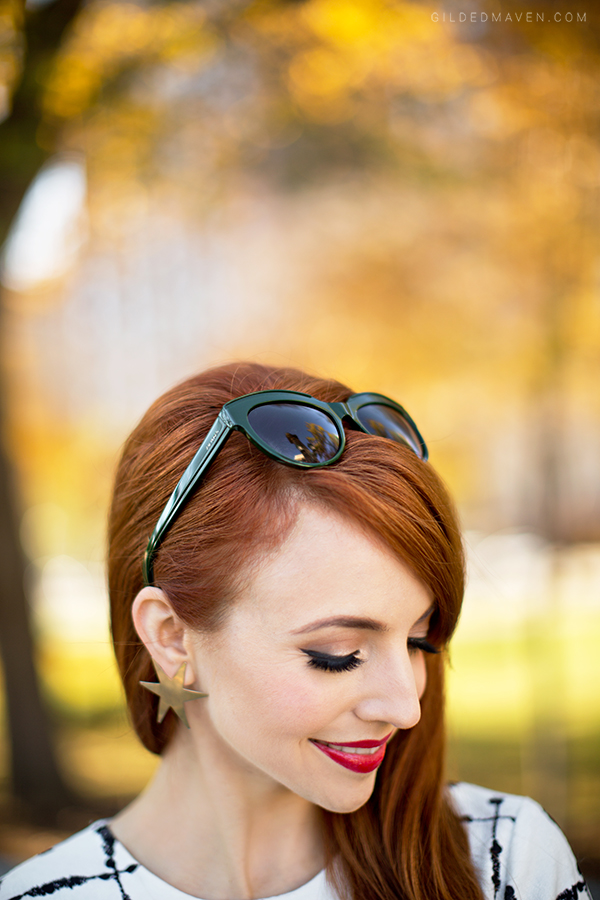 Did you know that super chic designer Zac Posen now has eyewear?! YES! And each style is perfection.
Zac Posen Sunwear 'Tennille' / Kenmark Optical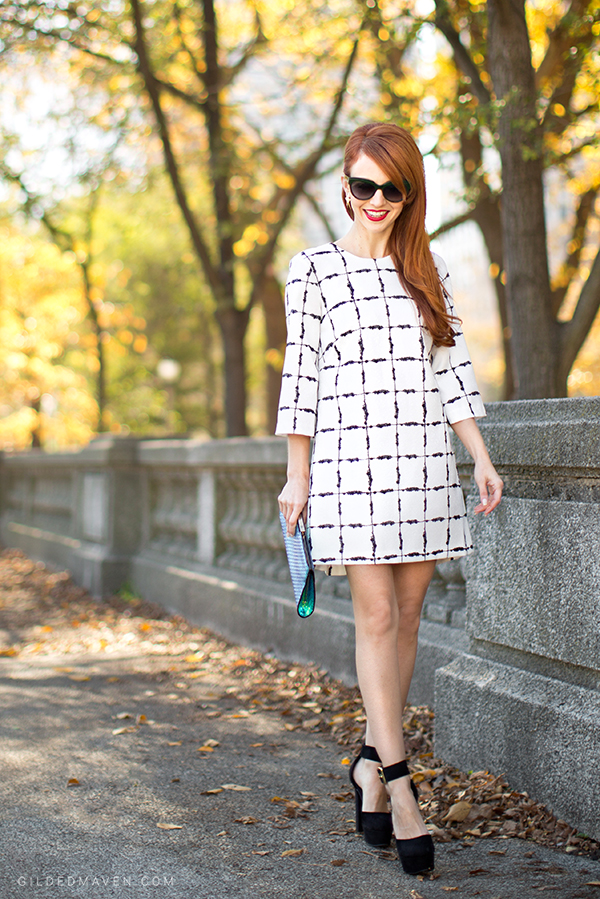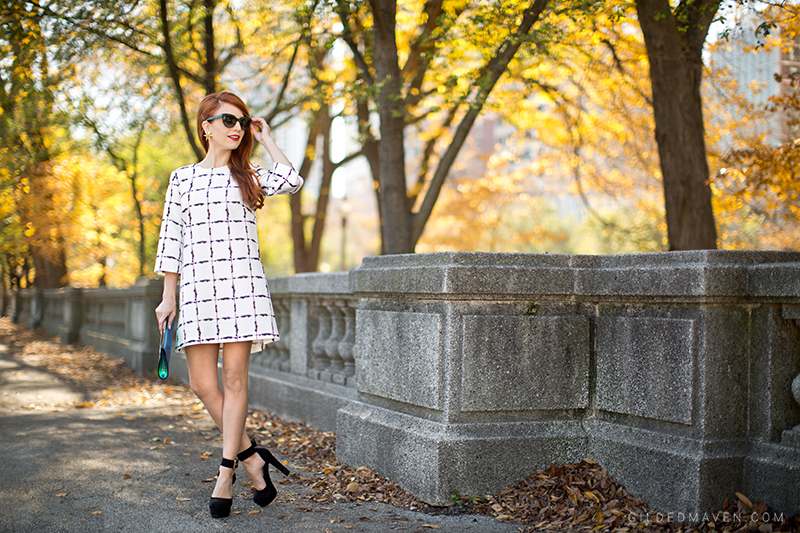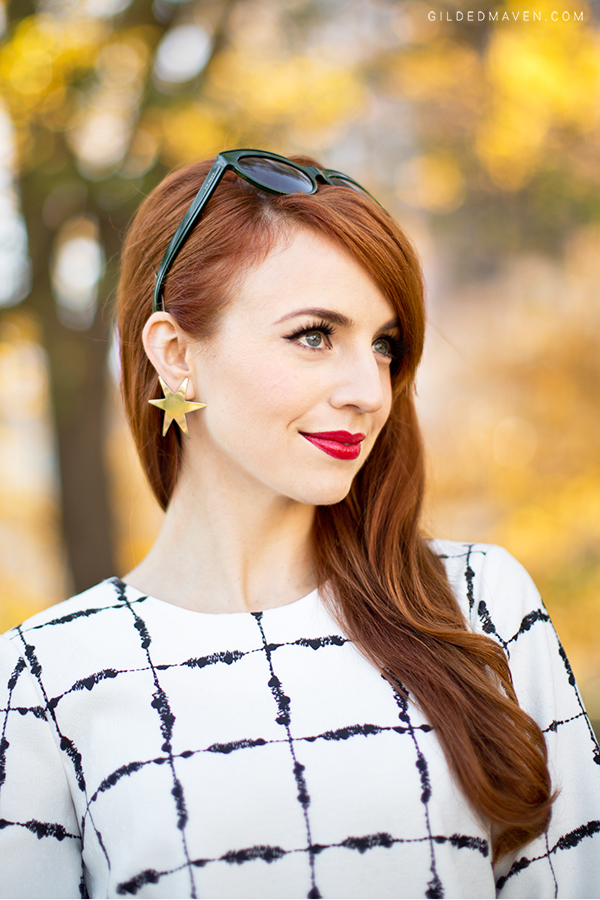 Looking for the perfect red lip? Get my signature color HERE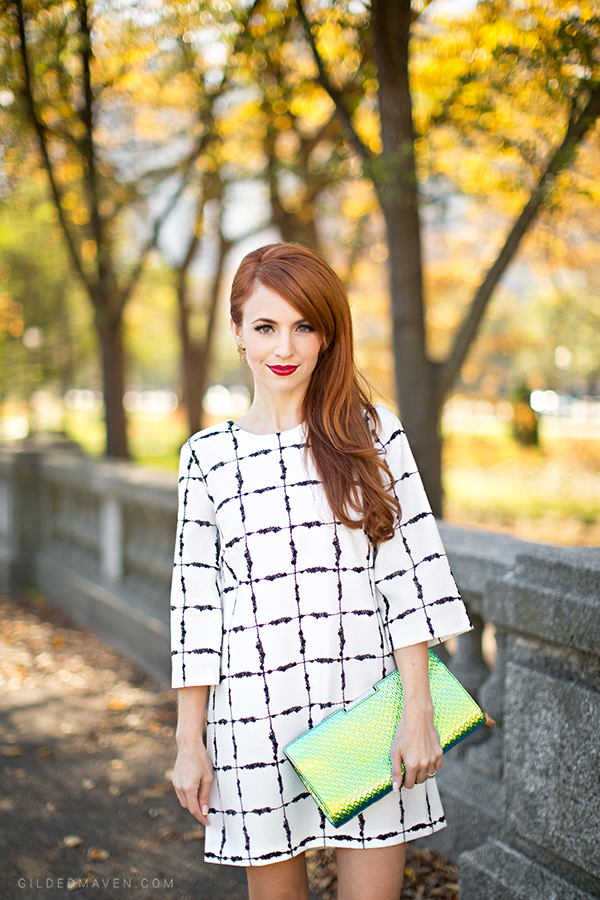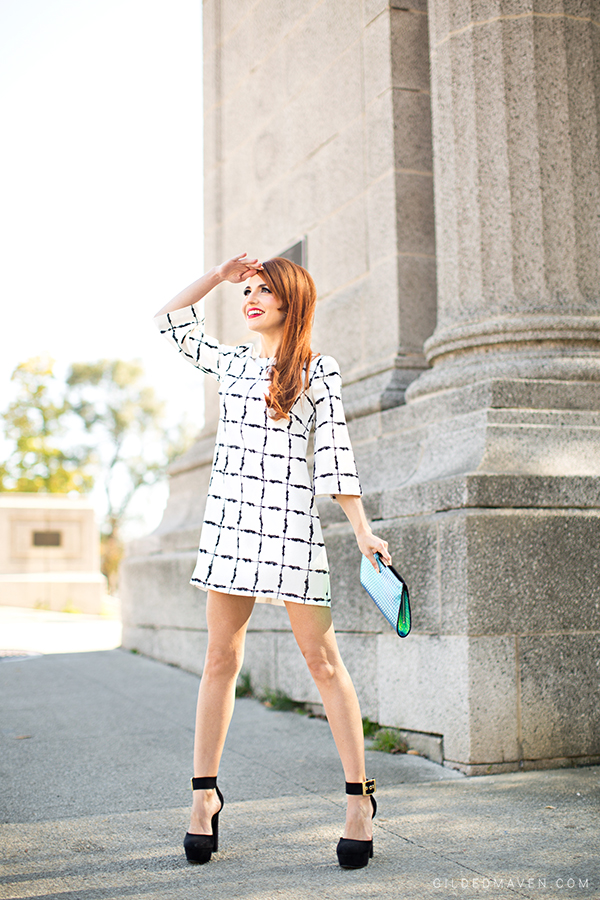 BCBG Symmetrical Sleeve Pattern Dress (JUST sold out online but still available in some Macy's stores)
Similar: French Connection Ciao Check Dress – Bloomingdale's Exclusive, BCBGMAXAZRIA Dorielle Ombre Plaid Jacquard Dress, also the Felicity and Coco Print Crepe Shift Dress
Handbag: Milly 'Miley' Clutch (on Sale!!!)
Fab Sunnies: Zac Posen Sunwear 'Tennille' / Kenmark Optical
Shoes: Asos Pendulum Platform Shoes
Coat: Via Spiga Faux-Leather-Panel Walker Coat
Do you play it safe too often and try to always match? Break that bad habit and free yourself from such a prison! (Not to be dramatic or anything.) Try something new. Buy something just because you like it, even if  "it won't go with anything I wear". Small handbags and clutches are a great way to show personality.  Sure, there are some 'rules' out there. But you know what? Life is too short to not have a good time with fashion. No one is handing out report cards.
Thanks for reading, and be sure to let me know your thoughts in the comments below!
xoxo