"The Sun Shines Bright on my Old Kentucky Home"
There are many traditions that take place during the week of the Kentucky Derby. One of those traditions is Dawn at the Downs. On the Thursday before Derby (or, 'Thurby' as it is becoming known) you can watch the sun rise over the historic twin spires and watch the beautiful thoroughbred horses warm up on the track. Of course it wouldn't be right if you weren't doing so over a proper southern brunch whilst sipping on mimosas… so of course there is an enormous buffet of Southern goodness and bubbly for all.
Because this is a morning event (6:30am-9:30am) it is best to not get overly glamorous. However, wedges and a great sunhat or fascinator are perfect – especially if you plan on staying at the track through the afternoon. I chose this navy lace-up sun dress with pockets by Gianni Bini that hit just below my knees in case the morning breezes were cool, and a simple wedge heel for when I needed to walk through grassy areas. The majority of Churchill Downs in made up of brick or cobblestone, so wedges always work best for those who may find those surfaces tricky to navigate (which pretty much qualifies anyone who has two legs!).
For my hat, I purchased a simple white wide-brimmed sun hat and embellished it with a thick & full ribbon from my local craft store. This is an easy & fun project – and you'll find that a large majority of true bonafide Southern women have a knack for such things. (After all, the Kentucky Derby is in our blood!) Secure the ribbon with hot glue or a simple stitch or two. Feeling fancy? Add silk blooms!
Scroll to the bottom for more details!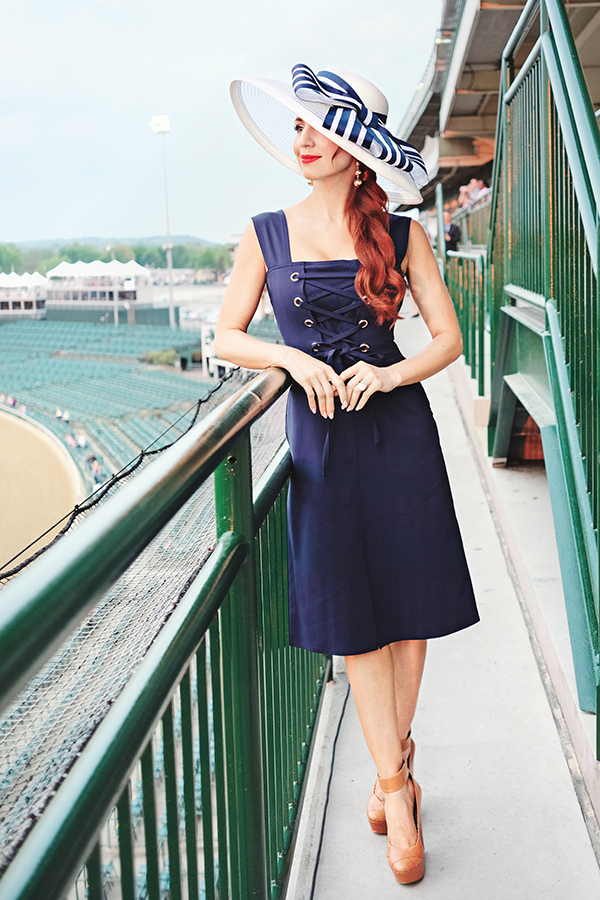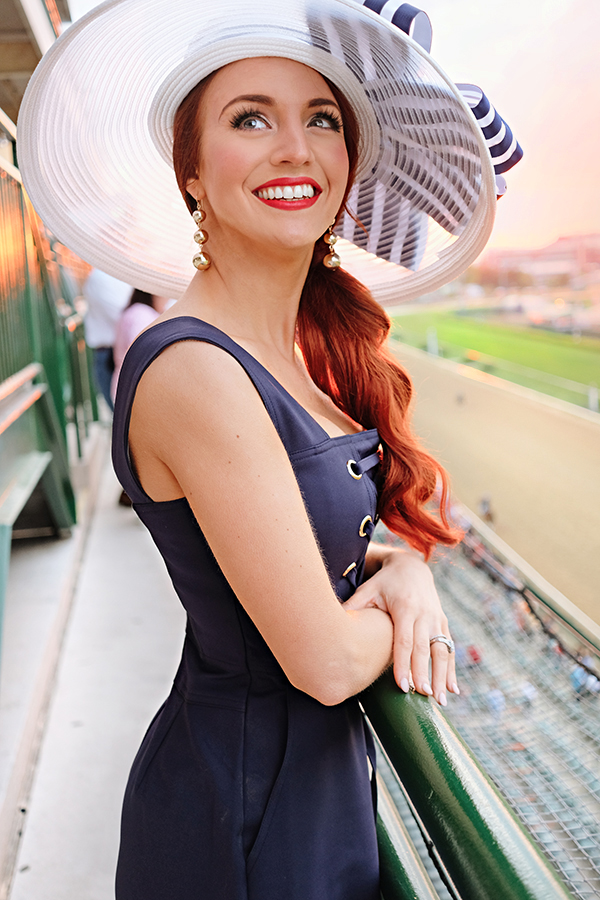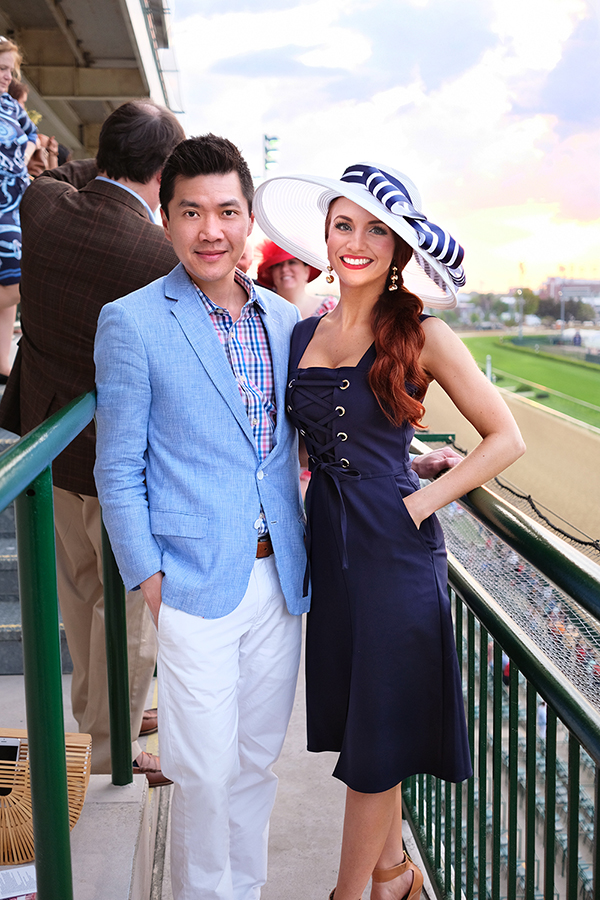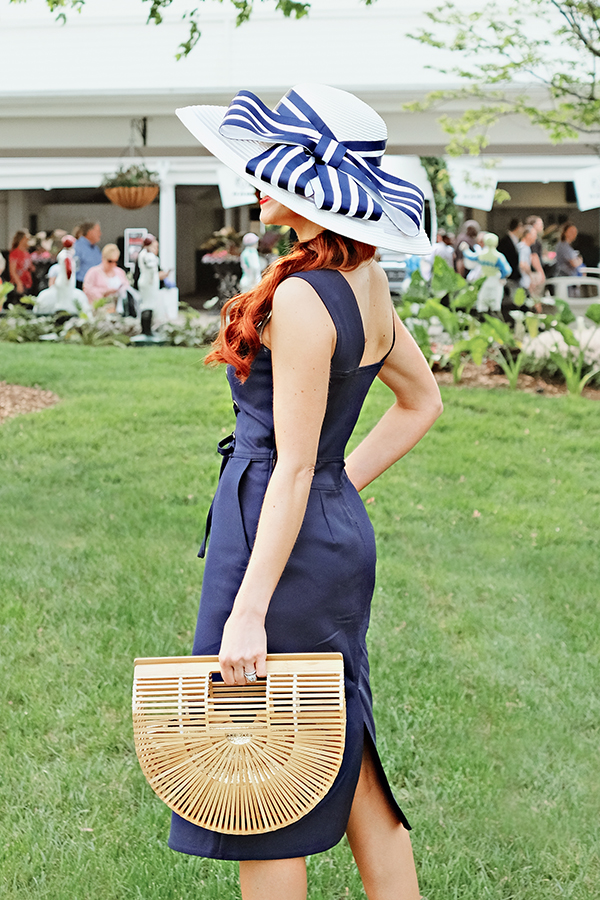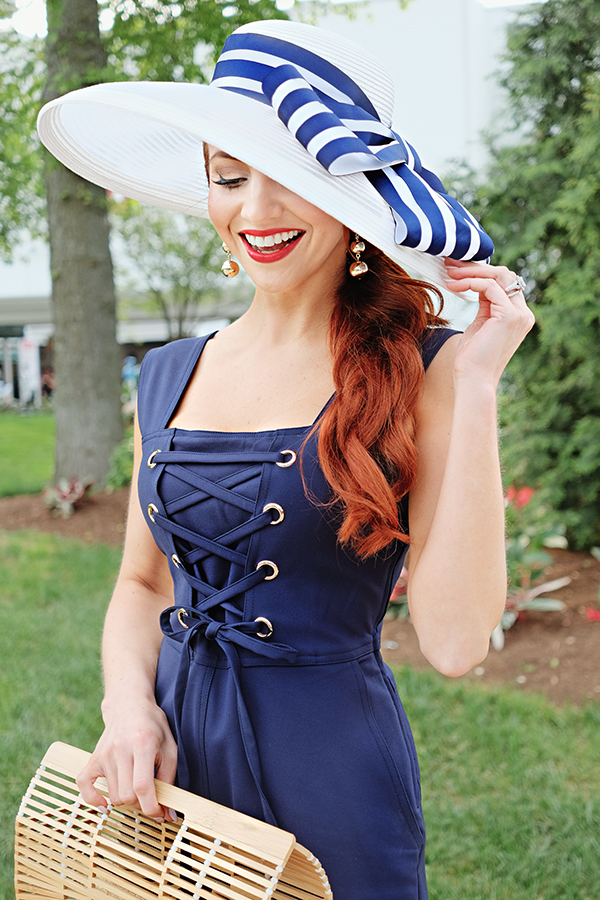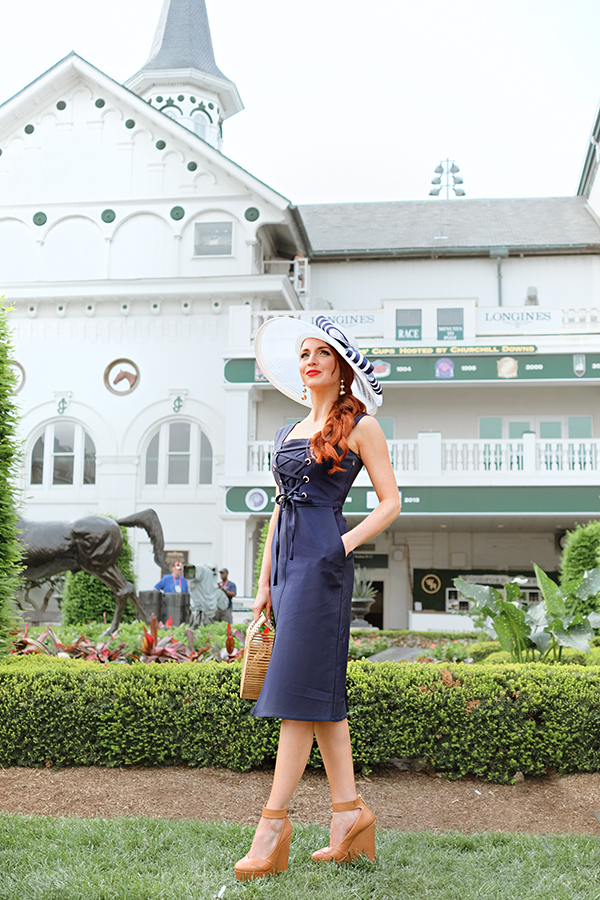 Dress | Gianni Bini Amber Lace up Dress
Shoes | Tumbled Calfskin Wedge Heels (similar & better)
Handbag | Ark Bamboo Handbag (Large)
Earrings | Sugarfix by Baublebar Gold Ball Drop Earrings 
Lipcolor | Giorgio Armani Rouge Ecstacy Lipstick in #400
My next post will be one of my favorite outfits of all time! It is even Miss America approved… more coming soon from the Kentucky Oaks 2018!