The texture of leather has the magical ability to take us to places and decades we will never go without a time machine. It blends with any outfit effortlessly, making it look instantly retro sophisticated. Leather vests have been seeing a huge comeback in the past year, and the trend has no 'season'. I am in love with the casual, camel colored ones with soft, suede texture – these are incredibly easy to incorporate into your winter wardrobe and make a statement without being fussy. Wear them over flannel or denim button downs, peasant blouses, and knits. You'll find it difficult to make a bad combination.
This vest by Ryan Michael is the epitome of perfection. It is softer than suede or any other leather I have ever felt in my life while being incredibly lightweight. It moves with you without being bulky and adds just the right amount of warmth. Details always count, and this versatile piece does not disappoint. I love the zigzag stitching, distressed seams and front tie closure!
The AWESOME news is that you can WIN this very vest by Ryan Michael worth $385! Check out the details at the bottom!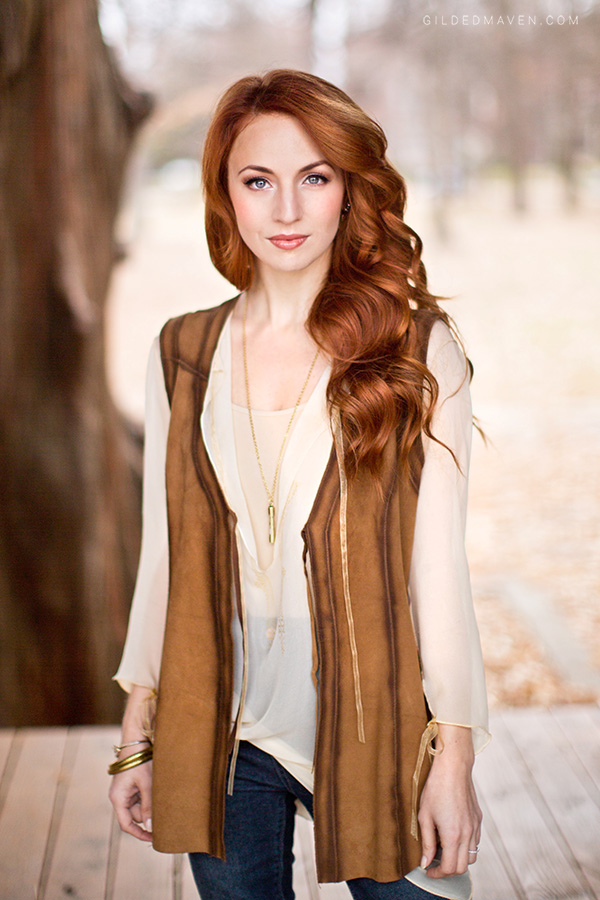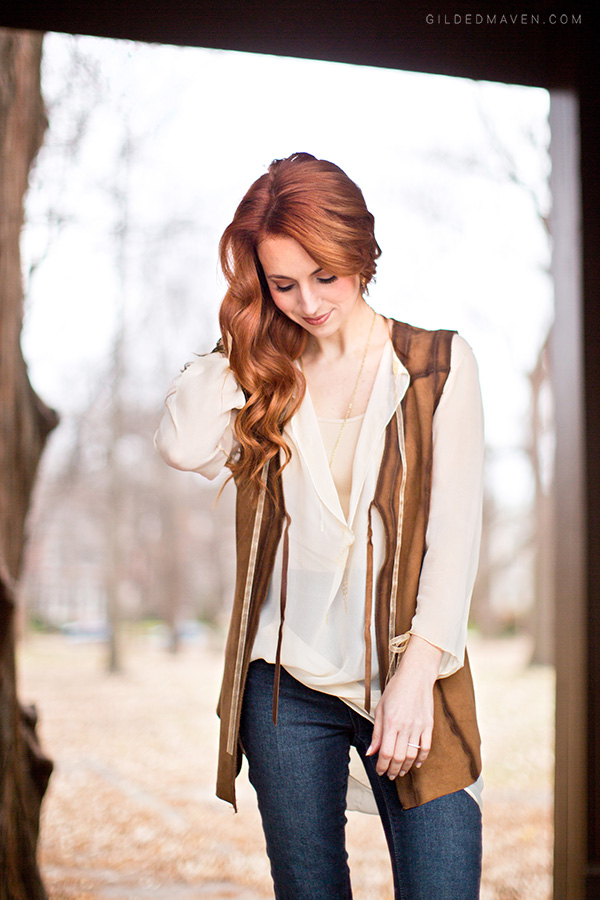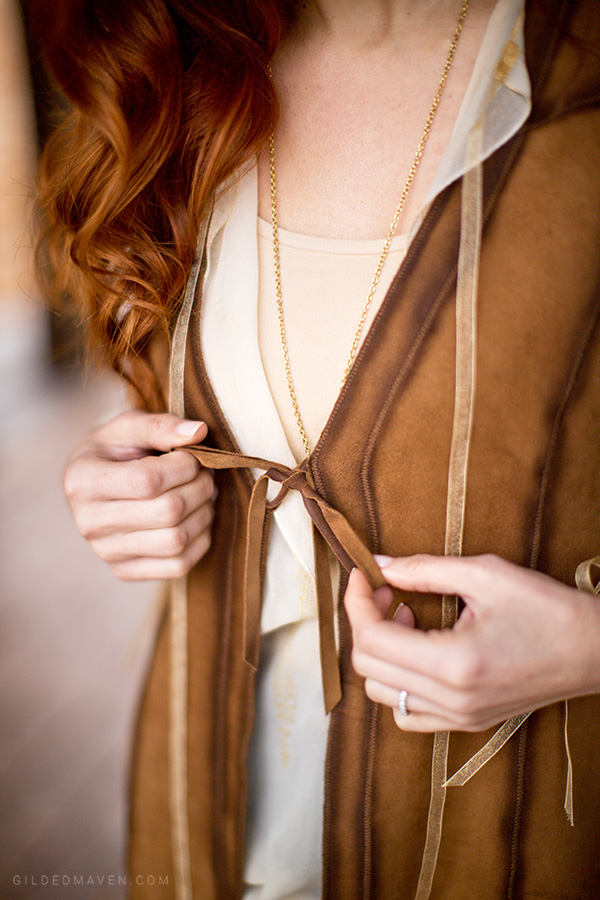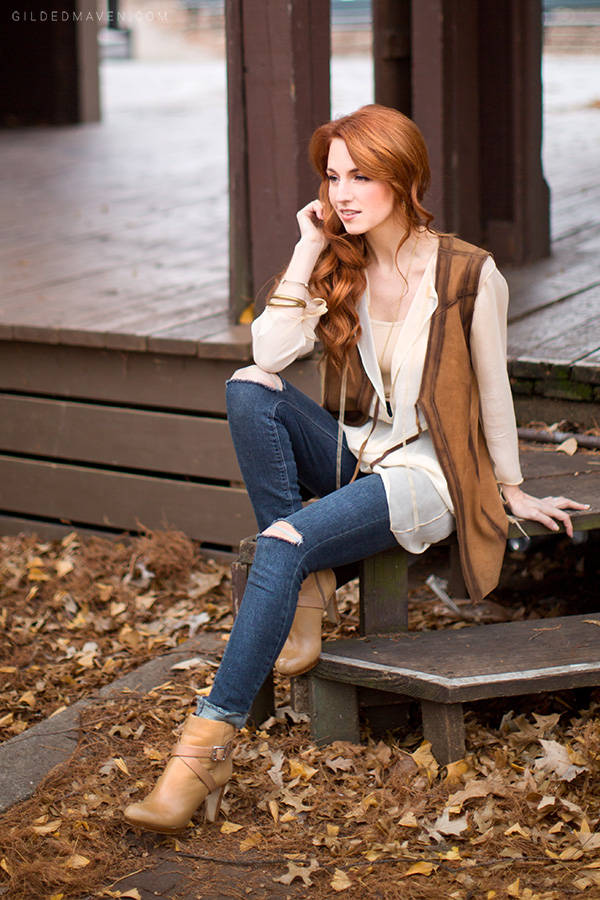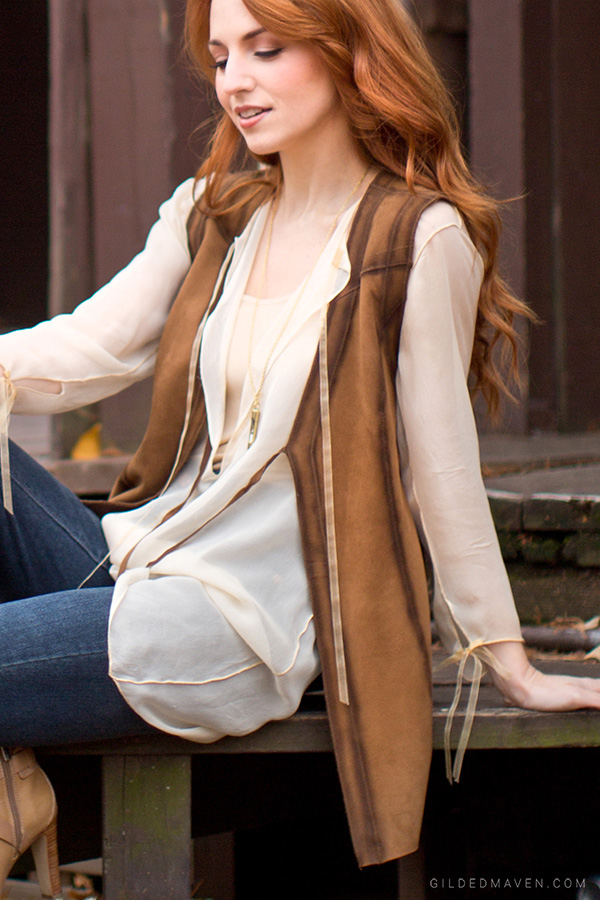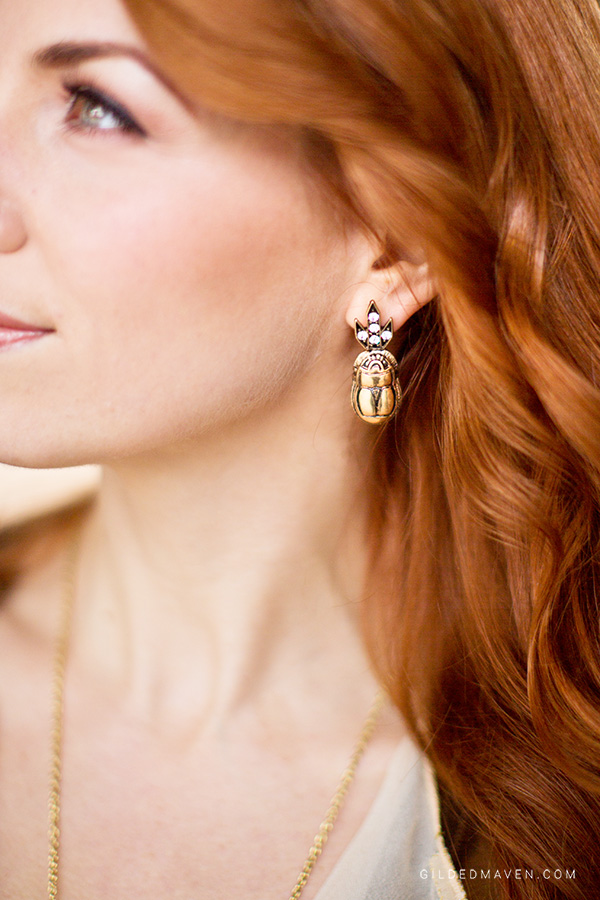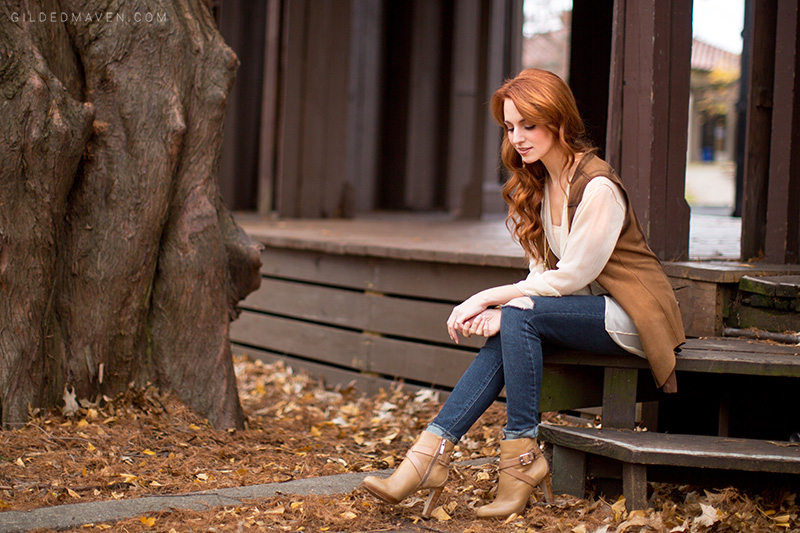 Ella Tie Front Leather Vest | Ryan Michael
Silk Peasant Blouse | Haute Hippie (similar) & Evanna Double Tie Peasant Blouse | BCBG
Khepera Earrings and Hourglass Necklace | The Gilded Maven Collection
 The Ella Tie Front Leather Vest is a DREAM piece for any boho babe's wardrobe, and one exceptionally lucky person gets to call it their own! Read the rules below and enter NOW!
RYAN MICHAEL LEATHER VEST GIVEAWAY RULES
There are TWO ways to enter, and yes you can enter TWICE!
ALL Gilded Maven subscribers are automatically entered to win. If you haven't subscribed yet, just click SUBSCRIBE at the top and confirm your email address! Easy peasy.
To gain one more entry (or if you simply prefer to not subscribe), head to our Instagram page and follow these simple steps!
~ FOLLOW @GildedMaven and @RyanMichaelClothing
~ Repost the official contest poster found in our Instagram feed using hashtag #gmgiveaway & tag both @GildedMaven and @RyanMichaelClothing in your post.
Simple enough, right? Now ENTER! What are you waiting for?! May the odds be ever in your favor!
Contest ends January 15, 2016. Winner is chosen by random drawing. Leather vest is a size Small/Medium. Winner must reside in the United States or have a mailing address in the U.S. to be eligible.
GOOD LUCK!
xoxo